Curriculum Vitae
Captain Scott Teele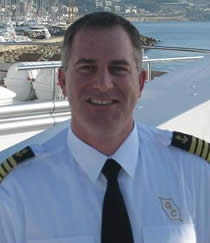 Home: (336) 973-4741
US Mobile: (954) 295.8628
Objective:
My experience from the past 20 years in boating, both recreationally and professionally, has lead me to look for a long-term position in which teamwork plays a major part in the contribution to a pleasant and professional atmosphere. I am presently seeking a secure position as Master onboard a charter or private motor yacht, in which I can contribute my attention to detail while helping to build an enjoyable and safe yachting experience for any potential owners, their family, and guests.
Education:
MCA Class IV 3000 GRT Master Upon Oceans/ Certificate of Equivalent Competency.
USCG 1600 GT Master Upon Oceans/3000 GRT International Tonnage Certificate.
ARPA Radar Observer Unlimited Certification.
Bridge and Resource Management Certification.
Certified Basic and Advanced Shipboard Firefighter.
Medical Person in Charge Certification (PICM).
Standards of Training Certification and Watch keeping 95.
STCW 95 GMDSS Certification.
Proficiency in Survival Craft (PSC).
Crisis Management and Human Behavior.
PADI certified Open Water Rescue Diver.
Named Mediterranean "Yacht Captain of the Year 2003" by All Services of Sanremo, Italy.
Career:
5/08-Present - Captain
164' Feadship-M/Y Inevitable- Charter (rotational 3 month on/off schedule)
Western Mediterranean/Canada/East Coast US/Carribean 11 crew/12 guests After joining the vessel in Viareggio, Italy in 2008, I have effectively supervised a totally subcontracted shipyard period of interior and exterior items, including settlement of warranty items from Feadship NL. The vessel was actively chartered in the Mediterranean for the years of 2009-2010 before transiting to South Florida for her 20 year Lloyds surveys in the fall. Her itinerary for the summer of 2011 has been private usage to Toronto via the St. Lawrence Seaway and southwards down the US east coast.
3/08- 5/08 - Captain
151' Feadship - M/Y Time for Us - Private
East Coast US | 9 crew /12 guests
Hired as Captain by Wright Maritime Group to manage the mothballed vessel and assist with the alignment of all Class and Flag Certifications in anticipation of upcoming sale. Responsible for the management and day to day operations of the vessel during survey, sea trials and eventual handover to the new owners.
2/04-03/08
During my search for a long-term position, I subcontracted short-term for the following positions: Owner's Representative, Charter Captain, Delivery Captain, and independent Contractor/Consultant. Upon entering each contract, there was full agreement that all employment was to be temporary and no further employment would be offered nor expected past the agreed upon time frame.
M/Y Ostar- 172' Feadship
Contracted for short-term relief work on the Mexican Riviera. Picked up the vessel in La Paz and delivered her to Puerto Vallarta where we embarked the owner for a total of 18 days.

M/Y Monte Carlo- Charter 132'Amels
Contracted to deliver the vessel to Daytona, Florida for an owner's trip, then to transit from Florida to Belize and return including a 2 week charter.

M/Y Tatoosh - 302' Kusch
Contracted to assist with the delivery from Cayman Islands to Tahiti

M/Y Golden Cell - 163' Benetti
Contracted to supervise an 8 week refit on the vessel in preparation for sale, charter the vessel though the remaining Mediterranean season, and manage the sale process as owner's onboard representative. Initially contracted for 6 months, but remained until the vessel eventually sold 10 months later.

M/Y Heloval-140' CMN -
Initially contracted by an ex-Charter guest as an Independent Consultant during his survey, sea trial, and purchase of his first 40 meter yacht. I was later retained in Sanremo, Italy to serve as Owner's Representative overseeing a complete refit. Responsible for budgeting, negotiation and supervision of all contractors, liaising with shipyard, interaction with classification society, shipping and coordination of all imported materials and components, and representation of the owner during the entire process.
7/01 - 12/03 Captain
156' Feadship - M/Y D'Natalin II - Charter
Mediterranean, Caribbean, 4 Trans-Atlantics | 10-11 crew /12 guests
Employed as Captain onboard, since the former owner's purchase of the vessel in 2001. From that time, I successfully managed four highly successful charter seasons in both the Mediterranean and the Caribbean, while maintaining an onboard the standard mutually agreed upon by the ownership and myself. All financial goals and forecasted budgets were met and achieved while the continued operation and management of a safe and professional working environment for a crew of ten was upheld. During this time, I supervised and managed a five month refit in Barcelona, Spain, including extensive cosmetic and engineering updates to the vessel. The D'Natalin II project was amiably departed from for personal reasons unrelated to the project upon the completion of my renewed contract term
11/00 - 4/01 Captain
125' Feadship - M/Y Lady Columbo - Private
Florida and the Bahamas | 8 crew /10 guests
Hired as general project manager/Captain to schedule, organize, and command a two-year around the world voyage. Duties included the coordination of a major refit, which was completed under budget and on time for the scheduled departure. In addition to the management of a professional crew of eight, I supervised both shipyard employees and subcontractors to ensure the project's utmost quality. Unfortunately, due to an untimely illness, the owner opted to offer the vessel for sale and halt any further plans on the Lady Columbo project. The vessel was ultimately sold in April of 2001.
2/99 - 5/00 Captain
120' Christensen - M/Y Picante - Charter
Mediterranean, Caribbean, 2 Trans-Atlantics | 7-8 crew /10 guests
Took command of the vessel in Fort Lauderdale, Florida after completion of a major refit. After necessary sea trials, our total crew of seven, completed four successful charter seasons in the Mediterranean and Caribbean. The vessel was then removed from the charter fleet and moth-balled in anticipation of sale. In the eventual downsizing of the crew, the vessel was successfully handed over to the owner's project manager for cost saving measures.
5/98 - 11/98: Captain-Delivery / Relief
108' Westship - Private
Florida to Michigan, San Diego to Ft. Lauderdale | 4 crew /6 guests
Position includes some overlap of two vessels. Brought in to run Westship One as Captain for new Michigan owner until his retained crew returned from Spain and handover was completed. Afterwards flew to San Diego to deliver new hull to Fort Lauderdale via the Panama Canal. Successfully completed entire 10,000NM passage.
9/97 - 5/98: Captain / Campaign Coordinator
Singapore Straits, Gulf of Thailand, Malacca Straits
Employed by a Singaporean yacht owner for delivery to and representation during a survey prior to the sale of his 25m sailing vessel. Responsible for organizing and maintaining a strictly budgeted yard period correcting small faults found by the survey team.
3/97 - 6/97: Chief Officer
Charade.156' Feadship - Private
Fort Lauderdale, Amazon basin, Panama Canal to San Diego, CA | 10 crew /10 guests
Signed on as a relief officer for the 2700NM passage up Amazon River basin from Ft. Lauderdale, FL. Continued with yacht to San Diego, CA. via Panama Canal traveling over 10,0000NM in three months. Responsible for navigation and passage planning for the yacht through entire voyage, as well as management of crew, duty roster and department accounting. Headed all fire and safety drills and training, including crew responsibilities during emergencies.
Personal:
Nationality: American
Marital Status: Married
Date of Birth: October 28, 1969
Non-Smoker

References:
Mr. Richard Hull-Owner M/Y Inevitable
rhull@somsetusa.com
Tel: (954) 727-3360
Mobile: (954) 604-1700

Ms. Rosalba Avilla-Manager M/Y /Princess Marianna/ Golden Cell /Moon Goddess
rcavila@iusamex.com
Tel: (954) 499-5060
Mobile: (904) 333-9126 or (904) 993-3358

D"Natalin LLC Dennisand Judy Jones - Owners M/Y D'Natalin II
Jeezos@hotmail.com
Tel: (314) 993-9521

Scott Schenck - President GenMarTec- Manager M/Y Defiance
5200 Longbay Road
St. Thomas, U.S.V.I.
sschenck@genmartec.com
Mobile: (504) 722.1368

Vivien Goldsmith- Character reference
Ship's Agent - All Services, Sanremo Italy
vivien@allservices.net
Office: +39.0184.533.533